The Kamloops Chapter of the BCSEA is delighted to announce that because of the overwhelming success and public interest in last year's event, the Solar Laundry Project will run again in 2013. In partnership with several sponsors, the Chapter is once again planning weekly draws for free clotheslines in May and June, plus they have added a few new initiatives, including working with Kamloops Youth Soccer Association to encourage sports teams to line dry jerseys.
Peter Ash, founder of UNDER THE SAME SUN organization, is a Canadian living with albinism. He is educating people all over Tanzania about albinism, challenging the governments to stop the killings, and giving children with albinism a safe place to learn while empowering them to become the future leaders of their nation as well as giving them new hope that they are indeed worthy of living.
May 1-May 20, North Shore Artwalk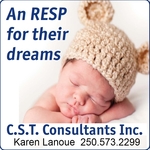 May 1, 8:00-2:00pm, 400 Block Victoria Street. Wednesday Kamloops Farmers Market
May 1, 10:15-10:45am, Kamloops Library. Tiny Tunes
May 1, 10:15-10:45am, North Kamloops Library. Rock-a-Bye Baby
May 1, 3:00-4:00pm, Kamloops Library. Story Dog Program
May 1, 7:00pm, Sahali Secondary School. High School Confidential
I have a personal attachment to a Children's Hospital in another province as I grew up with three siblings who spent a lot of time there with my mother.
As we lived outside of the city, my father and I spent countless nights sleeping in the car, patiently waiting while my mother and siblings were upstairs in the hospital. I can still remember laying in the trunk of our station wagon, gazing up at the vibrant lights of the city. I understand from my mother that she and the children were always very well-treated and helped by very kind, patient individuals. 
Fast forward a lifetime later, living in Kamloops and a mother of two children myself. I have come in contact with several children (and their families) who have had their lives changed forever at BC Children's Hospital. The only pediatric facility of its kind in British Columbia, for many children, it becomes a permanent fixture in their lives until they reach adulthood. Support of BC Children's Hospital is required for the purchase of urgently needed equipment and to fund research into childhood disease. You can show your support by supporting the athletes participating in WOD for Kids.
Earth Day is celebrated every year on April 22nd.
Launched in the United States in 1970, the goal of Earth Day is to promote awareness of environmental issues. It is celebrated all over the world, and with so many events happening throughout the month of April, it has become known + READ MORE