Head to Sahali Mall on May 24th, from 6:00-7:30pm for a family fun night of music and literacy! This event is FREE and is for babies, pre-schoolers and the whole family. Every family gets to take home a free book!


+ READ MORE
Register the family for the Blackwell Dairy Run 3km Fun Run or 15km. A great run for the entire family with a free pancake breakfast and ice cream following the race!
Date: May 26, 2013 – 9am start time
Location: R.L. Clemitson Elementary School, 5990 Todd Road (Barnhartvale), Kamloops, BC
Course map/description:
The cowbells rings at 9:00 am for the 15k run and 9:15 for the 3k Fun Run. The 15 km Road Race travels through the scenic area surrounding the Blackwell Dairy Farm. The fun run follows the 1st portion of the 15 km route.
Today we feature a recipe for muffins that can be made gluten free (with quinoa flour) or with regular flour. Super healthy, easy to make and a delicious combination of bananas and strawberries!
This is an easy recipe to put together and an awesome alternative to meat and potatoes, as chickpeas are high in protein and delicious in curries!
Ingredients
Olive oil 2 tbsp
2 onions (sliced)
2 cloves garlic (crushed)
Cumin 1 tsp
May 1-May 20, North Shore Artwalk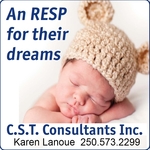 May 1, 8:00-2:00pm, 400 Block Victoria Street. Wednesday Kamloops Farmers Market
May 1, 10:15-10:45am, Kamloops Library. Tiny Tunes
May 1, 10:15-10:45am, North Kamloops Library. Rock-a-Bye Baby
May 1, 3:00-4:00pm, Kamloops Library. Story Dog Program
May 1, 7:00pm, Sahali Secondary School. High School Confidential